Three Special Books By Dr Jeffrey Pedersen
Rev. Jeffrey P. Pedersen has been a pastor for thirty years a
nd has a Doctor of Ministry degree. He has earned degrees from Concordia College, Moorhead, Minnesota; Luther Seminary, St. Paul, Minnesota; and Colorado Theological Seminary, Wheat Ridge, Colorado. Rev. Pedersen is also the author of the books; Endless Running, River Reflections, Cross-Winter Skiing, Christmas Ponderings, The Tie That Binds, A Basic Christian Theology, God Is Spirit, and A Solvang Christmas Tale. He has a weekly television Bible study on KFXB Christian Television Network, Dubuque, Iowa, and has been the keynote speaker at Christian conferences.
Baal Hamon Publishers has published four of Dr Pedersen books within the last seven years (2011 - 2019). The books afford readers an opportunity to benefit from the deep insights and rich experiences of Dr Pedersen's ministries. All three books are available at Amazon.com and several other online and 'brick and mortar' bookstores.

Christmas Ponderings is a collection of twelve Christmas stories told throu
gh the eyes of common ordinary people. These stories will help us to meditate on Jesus who was born Immanuel, God with us. These stories can be used as dramatic, first-person portrayals used at Christmas worship services, special events, and other occasions. Rev. Pedersen has used these stories for Christmas Eve., worship service meditations. As we receive Jesus Christ, we are reborn children of God. It is by the Holy Spirit that we experience Jesus in our common ordinary lives. Rev. Pedersen has integrated the Christmas stories, Biblical context, theological perspectives, and common ordinary life experiences in writing these stories.
The Tie That Binds will give couples the tools to work on building a strong and healthy marriage for a lifetime. This book is a good resource for couples who a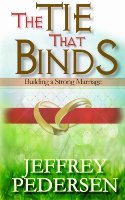 re preparing for marriage, but also for those who are currently married. This book can also be used for marriage retreats and for small group study. In reading this book together with your spouse, you would jointly explore: • Overcoming the challenge of leaving your parents to "cleave" to your spouse. • Maintaining excellent verbal and nonverbal communication with your spouse. • Avoiding conflicts in marriage and managing them when they sometimes occur. • Securing your marriage by maintaining healthy boundaries with professional colleagues and friends. • Gaining control over the addictions, behaviors, and practices that are most threatening to your marriage. • Loving your children without reducing your love commitment to your spouse. • Letting Christ be the chief cornerstone of your marriage. Click here to download sample chapters in PDF
Prayer is the key to having a relationship with the eternal God-Father, Son, a
nd Holy Spirit. We pray to our loving Heavenly Father, who has given us life. We pray to Jesus, begging for mercy. We pray to the Holy Spirit, who intercedes for us. The emphasis of this book is helping us understand what prayer is, but the importance of the book is encouraging people in the practice of prayer. As people pray, their relationship with the living God will develop. God is real, and we can experience his presence in our lives. Click here to download sample chapters in PDF
Sharing Our Faith is based on lectures that aired on the Christian T
elevision Network. Pastor Jeffrey Pedersen gives a Biblical, a Theological, and a practical basis of sharing the good news of Jesus with others. It is God's desire to bring all people into the saving covenantal relationship with himself. God has planned for the church to be committed to this great mission! This study will help the reader learn basic skills of sharing the treasured faith with others. Bringing people to salvation in Jesus Christ is the most exciting adventure in life. God is calling you to be a partner in this most precious work.
SPECIAL OFFER AND REFERRAL COMMISSIONS:
The combined retail value of three of the books is $31.97 Baal Hamon Publishers is currently offering a pack of the three books at only $20 (plus $5 shipping, 5-7 days delivery).
To take advantage of the special offer, order the pack of three books directly from Joy and Truth Christian Ministry (Publishing Division) using the PayPal Button below. [Baal Hamon Publishers is the Publishing Division of the Joy and Truth Christian Ministry.]
For information on how to earn commissions on referrals, please send email to publishers@baalhamon.com